9 min read
Top 10 Frequently Asked Questions About IMPACK's Packaging Equipment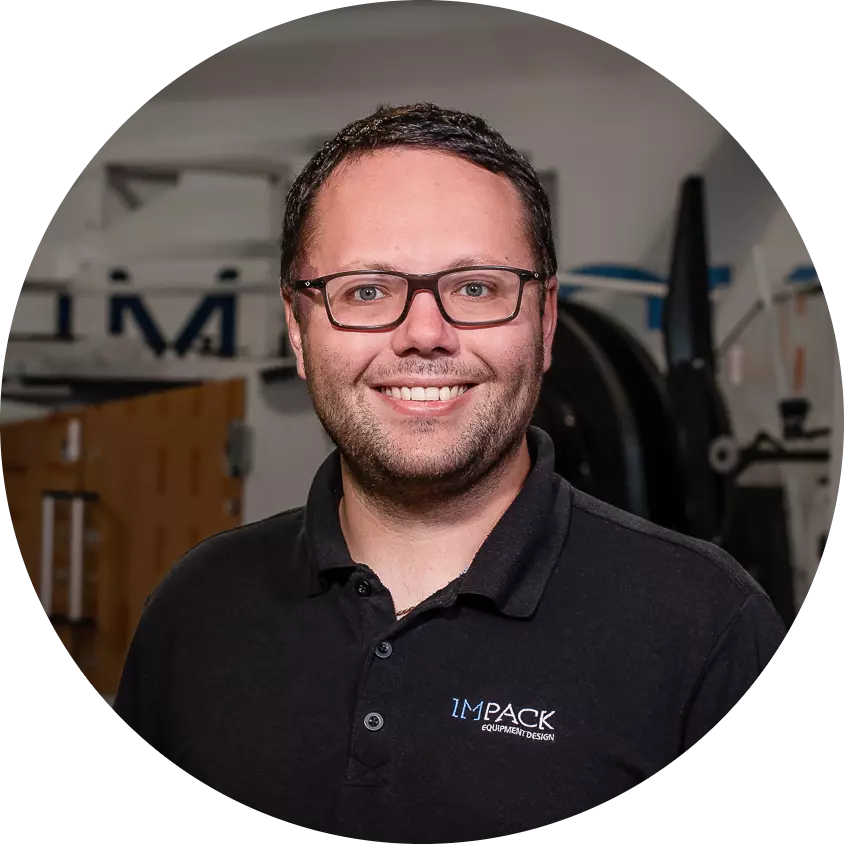 Written by: Maxime Jacques, 28 April 2021
You're in the process of deciding on which folder-gluer packer manufacturer you should work with, and you've got questions about what it is like to work with IMPACK.
👇 Here are the top frequently asked questions we get from potential clients 👇:
1. Where Are IMPACK's Machines Manufactured?
Answer: In Canada 🍁.
We are proud to say that IMPACK's machines are designed, engineered, and manufactured in Canada where IMPACK was born. IMPACK is 20% employee-owned.
2. How Many Machines Has IMPACK Installed?
Answer: More than 400 units across 25 countries and counting 🌎!
Since IMPACK was founded, we have manufactured and installed over 400 machines across 4 continents and in more than 25 countries.
The majority of our machines can be spotted in North America and Europe, and this figure is constantly increasing. In 2021, we've booked a 100% of our production pipeline within just the first 2 months of the year.
And most recently, we have installed our very first units in Australia, Japan, China, South Korea, and India.
3. Can I See a Machine Running?
Answer: Yes, and through several options! We can share with you videos taken at our clients' production sites, videos of box testing with your own samples, or we can organize a visit to IMPACK's manufacturing plant 🏢.
For more than 20 years now, we have sold over 400 machines around the world. And most of those machines were sold without needing any demonstration units.
"But how do I buy a machine without a demonstration?"
Good question! By demonstration, we do not mean that we do not offer any demonstration. What we mean is that we do not show a demonstration of a machine in a demo center, unless requested.
"Why?"
Because a demo center does not show you the real deal with your boxes. A company that shows you a machine in a demo center is really showing you the machine the way they want you to see it and within a controlled environment. This is because they can set every working piece of the machine the way they want, choose the perfect dimension of the boxes to fit the machine's specifications, and ensure that the machine is operating at maximum speed. But again, that is a perfect and controlled environment.
Instead, we share videos of our machines taken at our clients' production sites that show you a real-life utilization of the machine by real people. Not by IMPACK, but by real people using the machines.
If it is a simpler project like our Ergosa packer with only standard straight-line boxes, we typically offer videos of our clients' machines. But, if you feel more comfortable testing with samples of your boxes, we are more than happy to provide box testing.
And for machines that are more complex and(or) when boxes are very specific, we always encourage our clients to come to IMPACK for a factory acceptance test to ensure that the machine does exactly what they're looking for.
Regardless of the type of project, your production objectives, or the machine selected, every client is welcome to visit IMPACK's plant and we can organize a box testing of your very own samples.
In addition, if you would like to hear what our customers think of our machines, we could connect you directly with some of our customers via phone or video!
4. Do You Offer 24/7 Customer Service?
Answer: The short answer is no, we do not operate 24/7 🕔.
We do not operate 24/7, given that our service team members are the development engineers that innovate the machines you get serviced at your production site, but we are entirely confident in the reliability and durability of our machines.
In 20 years of IMPACK's history, our support requests have never required 24/7 customer service. Over 95% of the problems reported by our customers are errors in the settings of the machine and not a defect or breakage.
By providing us with photos or videos of the error in question, we can quickly and easily diagnose the problem and provide solutions within less than 24 hours.
When you call service at IMPACK, you are not redirected to an independent customer service department. Instead, you get to speak directly, and one-on-one, with the engineers who develop and install IMPACK's machines. Thus, you will communicate with the most qualified people who have the solutions to the problems you're experiencing.
Our most complex machines such as the Virtuo, Everio, or MFA are equipped with a remote connection allowing easy, and speedy, software updates to ensure that your machine is functioning at optimal performance 📈.
If a part needs to be replaced, our maintenance experts — with the remote assistance of our service department — will perform the operation. This allows our customers to quickly put the machine back in action and saves on labour costs for maintenance.
5. How Much Do Your Machines Cost? & Do You Offer Discounts?
Answer: IMPACK's folder-gluer packers cost between $60,000-$500,000+ CAD depending on their level of automation.
At IMPACK, we are committed to developing and maintaining strong, long-term partnerships with our clients founded on the basis of open communication and mutual trust. Hence, in the interest of transparency and fairness to all of our clients, we adopted a fixed price policy in 2012.
Through this policy, IMPACK promises to offer all clients the best pricing at all times, free of any arbitrary distinction or privilege.
Each IMPACK machine, and any additional option or module that you add to the machine, has 1 single price on our price list. And that price is non-negotiable.
As such, IMPACK guarantees that no client shall benefit from a discount that might afford them a particular advantage over another.
Instead, we already lowered the prices of our machines to our acceptable minimum through our fixed price policy and you're reassured that you are getting the best price out there.
This decision has since enabled our supply chain to become more cost-effective whilst offering top-quality products at a competitive price.
🔎 Recommended:
Wondering how much do IMPACK's different machines cost? Get a detailed cost breakdown by visiting "Pricing" on our website.

Find out whether IMPACK offers discounts and what discounts you can qualify for by reading "Does IMPACK Offer Discounts? Here's Everything You Need to Know!"
6. Can I Pay in a Currency Other than $CAD?
Answer: Yes, you can!
The prices of all our machines are in Canadian dollars ($ CAD). However, it is not uncommon for our clients to ask us if they can pay in other major currencies. We can adjust our pricing in accordance to your preferred currency 💱.
7. How Long Is the Delivery Time?
Answer: The delivery time depends on how customized your machine is, its complexity and the orders already in progress.
There are several factors that influence how fast your machine will get delivered:
The level of customization your machine includes
By default, the more standardized a machine is, the quicker and easier it is to manufacture it. On the other hand, the more customization required, the more time it will take to begin producing and manufacturing the machine.
The complexity of the machine you order
The more complex the machine and(or) production line is, the longer it will take to manufacture and install the machine.
Orders already in progress
We take orders first in, first out i.e. we prioritize the manufacturing of the machines according to the signature of the contract and the completion of payment for the associated invoice 🧾.
Once the payment is complete, the order is added to "Manufacturing in Progress." This means that if our pipeline is already full, all subsequent orders will be postponed until the orders we're currently processing are complete.
Therefore, the faster you order, the faster you get your machine.
Because every company is different, we customize and tailor our machines to each company's production reality and constraints. Hence, we build to order. If a machine is not ordered, we don't build it.
At IMPACK, we have a strong commitment to always deliver on time. It is what we've been doing over the last 20 years, and are continuing to do despite the unprecedented challenges the economy has faced. Our clients are always made aware of the present delivery time and estimated delivery date 📦.
8. How Long Is the Transportation Time?
Answer: It varies based on where the machine is being delivered and the type of transportation used.
The duration of transportation all depends on the delivery destination and the type of transportation used for that destination. You should also consider the time needed for customs clearance.
In North America (Canada, USA, and Mexico), machines are transported via ground shipping (truck 🚚) which usually takes 2 to 7 days .


In Europe, machines are transported via marine shipping (boat 🛥️) which usually takes 5 weeks. Expedited shipping is available via air transportation ✈️ (3 weeks) but is more expensive.


In Asia, machines are transported via marine shipping (boat 🛥️) which usually takes 6 weeks. Expedited shipping is also available via air transportation ✈️ (3 weeks) but is more expensive.
Transportation times are estimates and rely on the chosen shipping method and the courier company selected. They will be made as soon as possible and are "best-effort" based. Subject to delays that are outside our control including weather conditions, holiday closures, transportation service interruptions, and other unanticipated factors.
9. How Long Does Installation and Training Take?
Answer: It depends on the complexity of the selected machine and your level of preparation for the installation and training.
One of the most common reasons for the delay of the machine operation starts not during, or after the installation, but right before the installation has ever begun.
This problem stems from the lack of sufficient preparation for the machine installation and operator training.
The level of preparation you have before IMPACK's experts go on-site can make a significant difference to how fast you can operate your machine and how much training your operator receives from the experts.
In other words, if you are not as prepared as you could be, and improvise the start-up while the experts are on-site, you can be confronted with unnecessary problems that can delay (or even prevent) you from getting the machine running as soon as you could.
In addition, your operator will receive very limited training that they otherwise could have capitalized on to their advantage had they been properly prepared.
✔️ Our article "Top 5 Problems with Folder-Gluer Packer Installations (+ Solutions)" breaks down the top 5 problems we have repeatedly seen during installations and how you can avoid them before they could ever happen.
Installation and training for a box turner takes approximately 2-3 days.
Installation and training for an Ergosa packer takes approximately 4-5 days.
Installation and training for a Virtuo, Everio, MFA, or an Alterna takes approximately 2 weeks. In addition, we recommend an extra week of training 2-3 months after the installation and first training.
10. How Fast Can I Run With Your Machines?
Answer: The speed of the machine is based on several factors. Contact an IMPACK expert to receive a FREE productivity analysis and learn the minimum, average and maximum speeds you can achieve with that machine and for your specific production.
We could tell you the maximum speeds each machine can reach like other companies tell their clients, but let's be honest here, those speeds do not reflect the actual speeds that every client will reach.
It all depends on the machine you choose, the machine's level of automation, your product mix, type of production, box configuration, what options and modules are installed on the machine, how well your folder-gluer is running, and a set of intertwined factors.
Let's take a simple example: You're packing straight-line boxes with our Ergosa packer in Horizontal Mode. Now, let's consider 2 packing configurations. The First is 1 row, 1 layer packing with 100 boxes per row and the second is 2 row, 2 layer packing with 300 boxes per row. The answer will be completely different for each packing configuration.
In the first scenario, you could expect to reach a speed of 16,000-20,000 boxes per hour whereas, in the second scenario, you could expect to reach a speed of 70,000-80,000 boxes per hour. The difference is just enormous.
If you're looking for a specific answer for your company, 📞 give us a call, and we will conduct a free, no-strings-attached productivity analysis that will inform you of the minimum, average and maximum speeds you can reach for each box.
Still looking for answers?
If you still can't find what you're looking for, or have questions that are specific to your company, contact us today! — IMPACK's experts would love to help, and maybe even show you one of our machines LIVE in action 😉.
What's your top concern?
👉 Do you want to increase your folder-gluer productivity?
👉 Are you interested in learning more about folder-gluer packaging equipment?