Learn All About IMPACK
The world leader in packaging equipment design for folder-gluer lines
Who Is IMPACK and What Do We Actually Do?

We are a world-leading packaging equipment supplier, based in Canada, that designs, manufactures, and installs Folder-Gluer Packaging Equipment for carton board and corrugated box manufacturers.
Put simply, we make all kinds of packaging equipment for folding gluing lines.
Our primary mission is to show box manufacturers how to maximize their folder-gluer's productivity, cut down on costs, and reach top packing speeds so that they can close more contracts and bring in more business.
What Machines Do We Sell?
We sell all kinds of packaging equipment on, and around, folder-gluers.
Our Folder-Gluer Packaging Equipment includes Packers, Stackers, Pre-Packers, and Pre-Feeders with varying levels of automation.
👉 Discover here IMPACK's 3 main machines.
We also build custom machines for clients and work with small companies, medium-sized companies, and some of the biggest names in the packaging industry.
What Countries Are We Present In?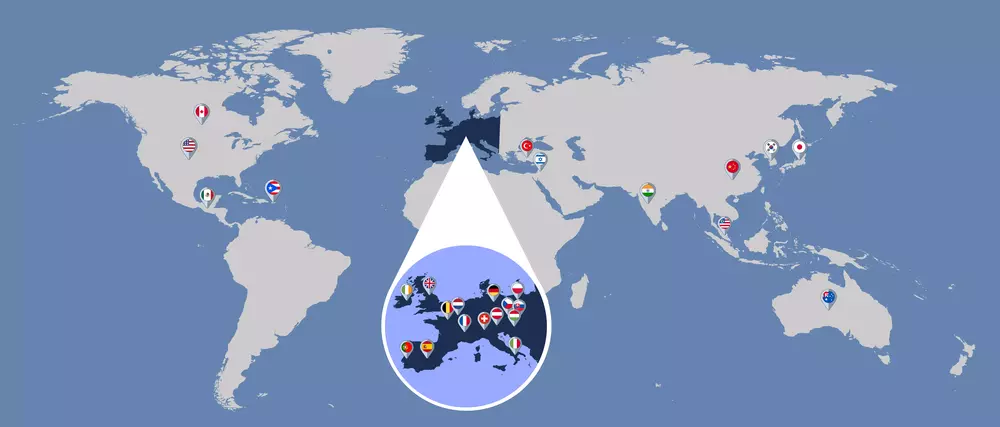 We have a rapidly growing international network with more than 500 machines manufactured and installed across 4 continents.
Growing Non-Stop
We have machines installed in 27 countries and projects in over 55 countries.
Our Roots
What Is IMPACK's Story and How Did It All Start?
From a school project to a multi-million dollar, award-winning company dominating the packaging industry, here is how it all started and the man behind it.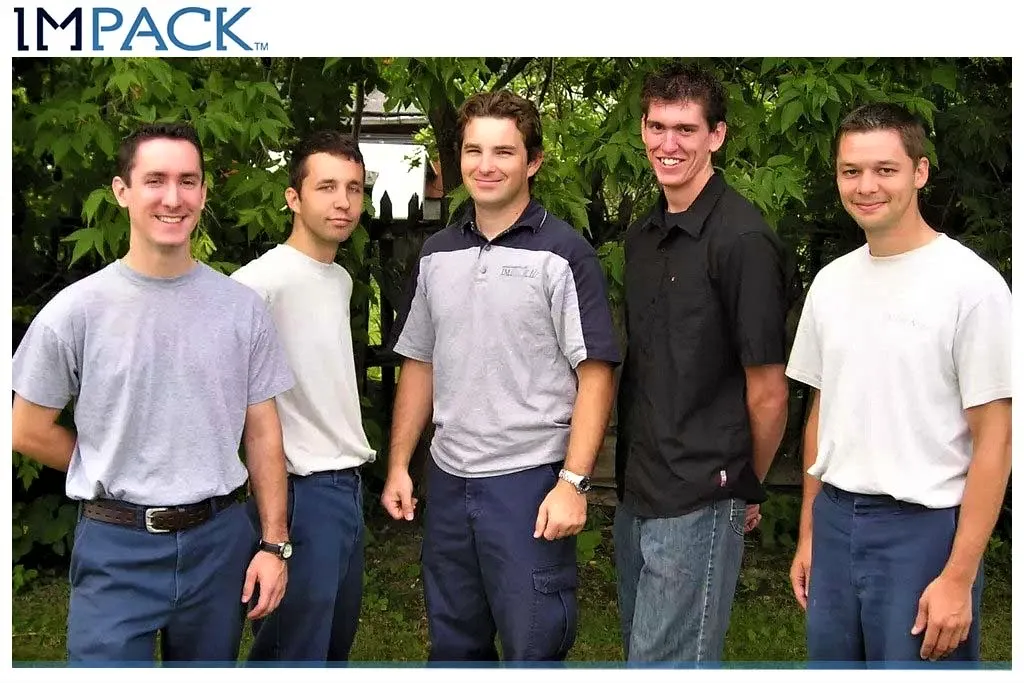 Our People
Who Are the People Behind IMPACK?
With over 60 employees from more than 10 countries around the world, IMPACK prides itself with diversity, inclusion, and cultural competency.
Our highly diverse and multicultural team located in 5 different countries mean that we can serve our clients regardless of where they are located in the world while communicating in the most spoken languages including English, French, Spanish, Italian, German, and Chinese.
Here is IMPACK and the people behind it 💗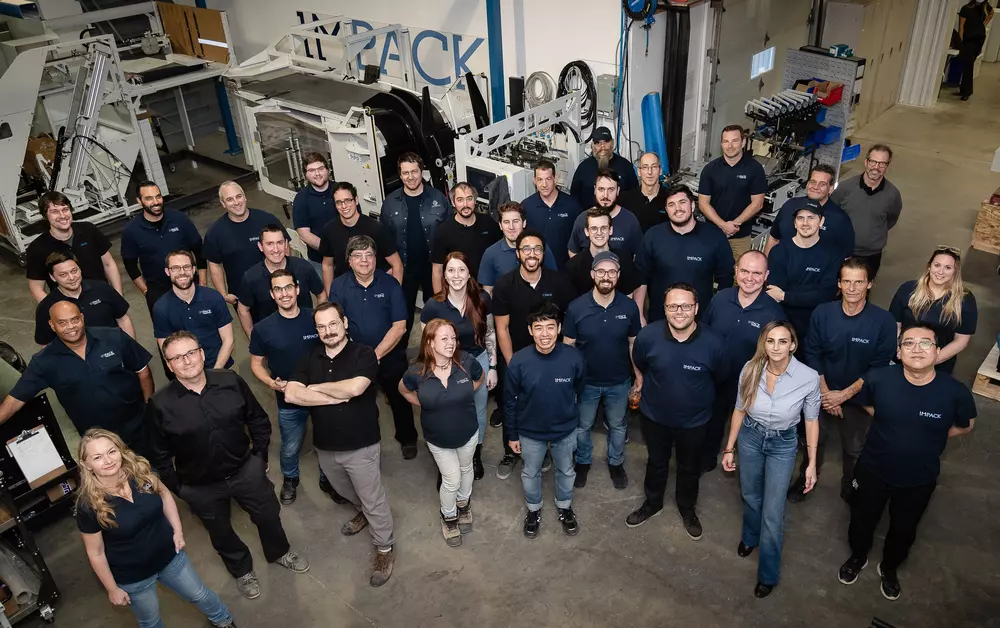 Work at IMPACK
How Can I Apply to Work at IMPACK?
40% of our employees at IMPACK have been working here since their graduation.
Growing in the company and evolving their individual skill sets makes them the experts of our industry. At the same time, it allows us to have fresh insights from young and dynamic thinkers.
We are always looking for new, talented people like you! Our Recognitions
What Has IMPACK Been Recognized For?
From a school project to a company worth millions, today IMPACK prides itself on being a multi-award-winning company.
🏆 In 2003, IMPACK won its first award "The Successful Foundation Award" on the Quebec Entrepreneurship Contest Challenge.
🏆 In 2019, IMPACK was awarded its second prize "The Successful Incorporated Business Award" on the Quebec Entrepreneurship Contest Challenge.
🏆 In 2022, IMPACK was the only company in the world to win "The TAYA Biggest Disruptor Award." Our Alliances
IMPACK is a proud member of the Metal Manufacturing Alliance for the Quebec region.
The MMA brings together companies in the metal manufacturing industry that share values and a common vision: Promoting a world-class manufacturing sector.

Our Partners
We think of our partners as we do of our clients: "A sale is not the end of a process, it is the beginning of a relationship."
The foundation of our rapidly growing international network of partners is based on open communication, mutual trust, and full transparency.
Contact us if you're interested in becoming one of our trusted partners. North America
CONTACT
For service, support, or spare parts, call us at:
📞 +1 450 839 7272. Ext: 2
If you're interested in an IMPACK machine & got questions or want to see it in action, book an appointment:
To speak directly with an IMPACK expert in your area, call us at:
📞 +1 450 839 7272. Ext: 1
LOCATION
IMPACK's Headquarters & Innovation Centre:
14, Marcel-Lepine Street
Saint-Jacques, Quebec, Canada
J0K 2R0
IMPACK's Manufacturing Center (IFAB Inc.):
24, Maréchal Street
Saint-Jacques, Quebec, Canada
J0K 2R0
Europe
CONTACT
For service, support, or spare parts, call us at:
📞 +33 2 44 21 44 66
📞 +1 450 839 7272. Ext: 2
If you're interested in an IMPACK machine & got questions or want to see it in action, book an appointment:
To speak directly with an IMPACK expert in your area, call us at:
📞 +39 348 322 9738
📞 +1 450 839 7272. Ext: 1
Asia
CONTACT
For service, support, or spare parts, call us at:
📞 +86 21 26134290
If you're interested in an IMPACK machine & got questions or want to see it in action, book an appointment:
To speak directly with an IMPACK expert in your area, call us at:
📞 +86 21 26134290
LOCATION
Suzhou IMPACK Packaging Machinery Technology Co., Ltd.:
Room 505 – 25, Dantaihu Building, No. 9, Taihu East Street
Wuzhong District, Suzhou City, Jiangsu Province, China