You're in the process of searching for a packaging equipment supplier to help you improve your folder-gluer productivity and reach higher packing speeds.
But, you're still not sure who to partner up with.
You've heard a little about Impack and you know that we manufacture and install packaging equipment with all levels of automation.
You're just not yet 100% confident in us as a partner.
I really don't blame you.
Hi! My name is Hani Hallal and I am the Marketing Project Manager here at Impack packaging!
Just like you, when I was considering working for Impack, my top concern was learning about what this company is all about, what they stand for, and their culture.
And here I am now writing an article about something that I wanted to find out for myself exactly a year ago.
The truth is, Impack packaging is not the right fit for every client. And every client is not the perfect fit for Impack.
That's just the reality.
When choosing a packaging equipment supplier, there's a lot of commitment involved and the only thing that matters in those relationships is mutual trust.
So, this article will introduce you to who Impack is, what we do, and the story behind how Impack all started.
This will give you a better idea of our culture and what it's like to work with Impack.
By the end of this article, you'll be able to decide for yourself whether Impack packaging is right for you!
Let's get right into it 👇
Who is Impack Packaging and What Do We Do?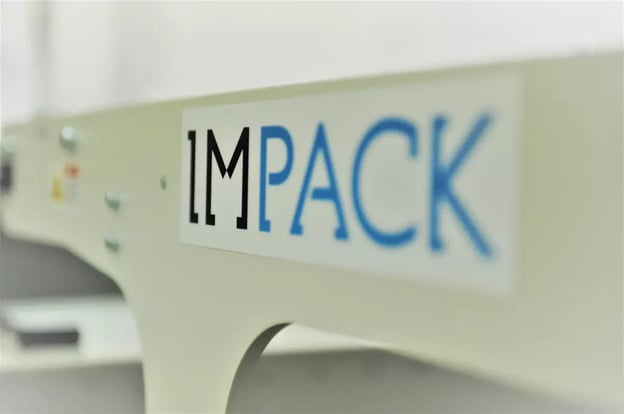 Impack Packaging (IMPACK) is a Canadian world-leading company that manufactures Folder-Gluer Packaging Equipment for carton board and corrugated box manufacturers.
Put simply, we make all kinds of packaging equipment for gluing lines.
Our Folder-Gluer Packaging Equipment includes Packers, Stackers, Pre-Packers, and Pre-Feeders with varying levels of automation.
We also build custom machines for clients and work with small companies, medium-sized companies, and some of the biggest names in the packaging industry.
We have a rapidly growing international network with more than 400 machines manufactured and installed across 4 continents and with projects in over 55 countries.
What's the Purpose of Impack's Packaging Equipment?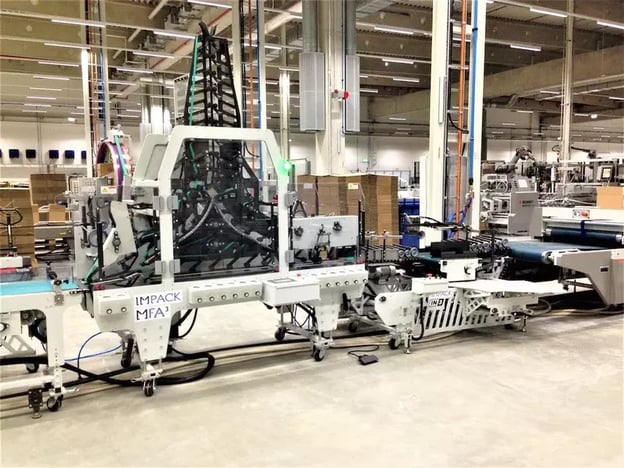 Impack packaging's MFA Batch Inverter and the IN3 Box Turner installed after the folder-gluer and before the folder-gluer packer.
The purpose of our folder-gluer packaging equipment is to help box manufacturers maximize their folder-gluer's productivity and reach top packing speeds.
How so?
By partially, or fully, automating your packing process.
At Impack, we understand that finding good operators is hard.
And unfortunately, it is becoming rarer and scarcer than ever to find operators/packing staff that are good at what they do.
Therefore, we design packaging equipment that helps you automate your packing process.
Folder-gluer packaging equipment allows you to:
Reduce the workload on your operators/packing staff.
Reduce the number of operators/packing staff needed.
Increase packing speeds by 25%, 50%, or even 100%.
Dramatically cut down on your costs.
Produce more output, faster output, and bring in more business.
In short, folder-gluer packaging equipment helps you boost your folder-gluer's productivity.
🔍 Related: Interested in learning more about folder-gluer packaging equipment? Discover here the 4 types of folder-gluer packaging equipment and how to choose the right machine for your company.
Impack's Experts do not just build and install the equipment, but instead, we get involved at several different levels. This includes:
Analyzing your work methods and finishing department's performance.

Examining the types of boxes you produce and your existing machines' level of productivity.

Designing standard packing systems and customized packing systems.

Conducting inspection and quality control procedures.

Providing complete operator training to help you master your folding gluing process.

Providing maintenance and ongoing support for many years to come.
What is Impack Packaging's Story?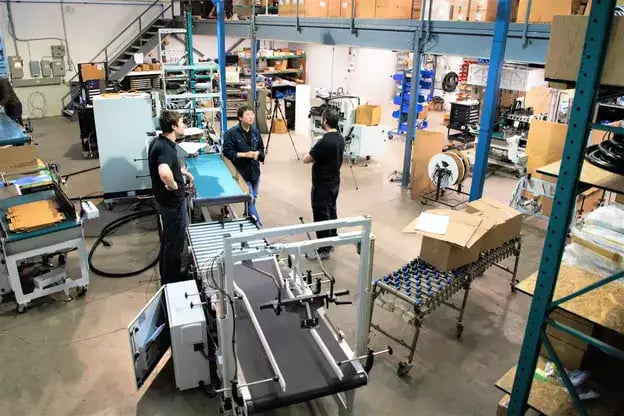 Impack's Ergosa C packer and MFA Batch Inverter combination at Impack packaging's manufacturing plant. Impack's experts discussing a client's test.
Impack packaging was founded in 2001 by the current president of the company: Dominic Thériault.
It all started with 1 custom packer.
In 2000, Dominic set out to design and build a custom automatic packer for a school project at Cascades in Montreal, Canada. The goal of this project was to find ways to improve a folder-gluer's productivity.
This inspired a new business startup idea.
The premise of our business and core product offerings to this day is based on the ultimate realization Dominic had in 2001. In Dominic's own words:
"There is a dire need for automation in the finishing department of every packaging producer out there."
From then on, Dominic committed the rest of his life towards finding solutions to automate the case packing process.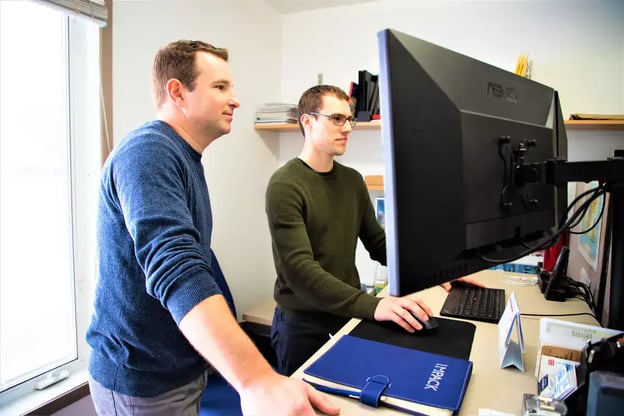 From left to right: Dominic Thériault, Owner and President of Impack packaging, with Stefan Badertscher, Director of Sales and Marketing at Impack.
First, Dominic hired a group of fellow students at his university of which Mathieu Tremblay and Michel Beausejour are still with us today directing the ins and outs of the company.
Following that, our diligent accountant, Anne-Marie Cadieux, joined IMPACK and she still keeps a tight rein on all our finances to this day!
Impack packaging then went through years of erratic development that was more akin to a student project than a "real business" but our client base continued to quickly grow.
This led to the development of our first 3 product lines:
The Ergosa Packer: Impack's semi-automatic packer with the performance of an automatic packer and one of the only semi-automatic packers in the world.

The Virtuo Packer: Impack's automatic packer and one of the only packers on the market that can handle both carton and corrugated board.

The MFA Batch Inverter: Impack's inverter for crash-lock/auto-bottom boxes. It is the simplest and most affordable solution on the market for handling crash-lock boxes made of carton board.
🔍 Related: Wondering what machines does Impack offer? Learn about Impack Packaging's Machines & Which Machine is Right For You?
Then, in 2005, Impack packaging became ready to face the US market and bring in our innovations.
We reached out to Richard McDonald at PPCTS to help us promote and sell our products.
Richard is a prominent figure in the US packaging industry and a fellow Canadian who happens to be born a few kilometers away from IMPACK's headquarters.
An enduring relationship quickly formed!
Fast forward a few years of steady growth in the US market, Impack became ready for the next step.
In 2008, our first machines landed in the European market: Impack's Ergosa packer and Impack's Virtuo packer. Those machines were delivered to our loyal client in Italy: Box Marche.
🔍 Related: Read about how Box Marche dramatically improved their productivity and minimized physical strain with Impack packaging's machines.
The future looked great and business was rapidly growing.
But then the global financial crisis hit...
Impack suffered and business became extremely difficult.
Our revenues heavily dropped day by day, and the future looked bleak.
Nevertheless, Dominic's vision remained unphased and his goals set in stone.
Slowly, we started to pick up the pieces of Impack back together while keeping our employees and being supported with government assistance.
The National Research Council of Canada was ready to assist the company, but we wanted to aim for more! They then helped us leverage our technology and patents to form a global partnership with a renowned company and a prominent leader in the packaging industry, Bobst.
In 2012, Impack formed a partnership with Bobst which gave us privileged access to a global sales team eager to offer our solutions.
Our partnership with Bobst provided us with invaluable insights into the packaging industry and challenged us to continue innovating our solutions to meet the ever-evolving needs of carton board and corrugated box manufacturers.
As Impack evolved, our long-term strategies with Bobst couldn't find a common fit anymore.
And so our collaborative partnership ended amicably in 2019.
Impack packaging's solutions remain complementary to Bobst's folder-gluers, and we still work together to this day but more on a project-by-project basis than an all-encompassing agreement.
Then came the COVID-19 pandemic with the terrifying realization that we might face another great crisis like in 2008, but this time we experienced 70% business growth in 2021 and closed our biggest sales in Impack's 20-year history.
Looking to the future, we have initiated daring projects as of 2020 and we're really excited for what's next for Impack packaging.
Got Questions?
If you've got questions, contact us today! We'd love to help answer any questions you've got on your mind!
Your Next Steps:
👉 Got more questions about Impack or our machines? Here are Impack's Top 10 Frequently Asked Questions with clear and direct answers.
👉 Still not sure whether investing in packaging equipment is the right move? Get answers by reading "Do I Need to Invest In Packaging Equipment to Improve My Folder-Gluer Productivity?"
👉 Wondering why is IMPACK asking you so many questions? Read "What is the Box Information Template & Why Is Impack Asking Me All Those Questions?"