Manual packing is the traditional packing method used for decades where the whole packing process is done manually.
And the packing system most commonly used in the manual category is a Collecting Table.
Collecting Tables are non-automated packers that serve as a packing aid for your packing person(s) handling the packing and case handling the job at the end of your folder gluer line.
In this article, we will break down what manual packing is and then explore its advantages and disadvantages.
At IMPACK packaging, you can find our Collecting Table under "Packing Help Stations."
What Is Manual Packing and How Does It Work?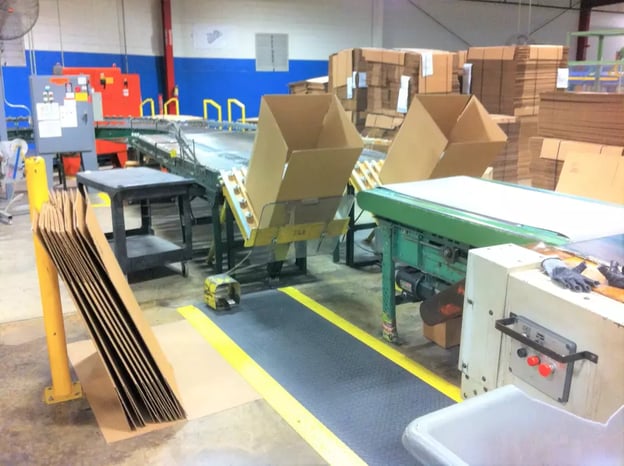 Manual packing is the manual process of packing your folded and glued boxes and placing them into cases, it is an entirely manual packing system.
Manual packing systems often require multiple operators to pack directly at the end of the folder-gluer's compression belt.
This process can be somewhat crowded due to the need for one or two packing persons as well as someone who takes care of the casing process.
In addition, most Collecting Tables are made of wood or stainless steel and have "tilting holders/stands" used to tilt the cases at an angle to facilitate the casing.
The most popular Collecting Tables on the market have a right angle on the left or right with a box turning feature and some form of tilting table.
Nevertheless, manual packing is the lowest level of automation and the packing systems that fall into this category, such as Impack's Packing Help Station, involve full manual work without any automation in the packing or casing process.
Now that you understand the manual packing process of Collecting Tables, let's explore the advantages and disadvantages of manual packing.
What Are the Advantages of Manual Packing with Collecting Tables?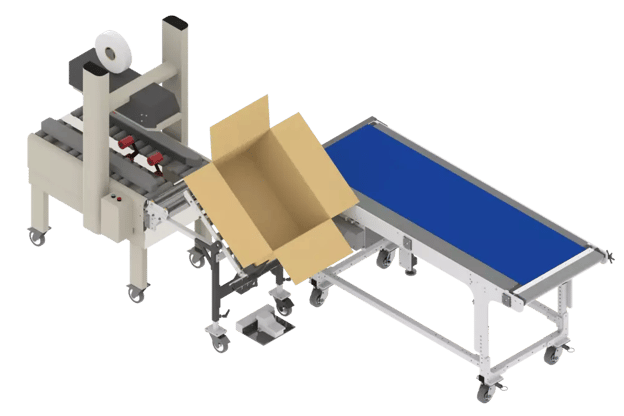 Impack Packaging Packing Help Station 1.0
Collecting Tables offer the quickest and easiest setup of all packing systems since they require close to no setup time.
Given that Collecting Tables are non-automated, it is easy for your operators to adjust your Collecting Table the way they need to even while your folder-gluer is running, it is easily reachable and alterable at all times.
The biggest selling point of Collecting Tables is their low cost, they are by far the cheapest packing option on the market.
Collecting Tables are easily moveable since many of them on the market are equipped with wheels.
Collecting Tables allow you to slow down the shingle of boxes to the minimum possible speed by maximizing the compression of the shingle.
What Are the Disadvantages of Manual Packing with Collecting Tables?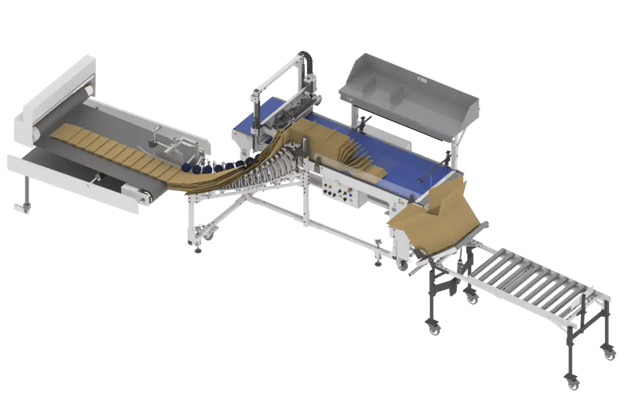 Impack Packaging Packing Help Station 2.0
Because Collecting Tables are not automated, your packing person(s) may not be able to keep up with your folder-gluer's top speed nor match the speed of Semi-Automatic packers, Automatic packers, or Fully-Automatic packers.
The most obvious disadvantage is the fact that the packing task is entirely manual, which could be physically straining for your workers.
Collecting Tables offer only 1 packing mode, they have no "straight through mode" nor any mode that would turn your boxes at a 90-degree angle. This is especially important since many of your clients will want your boxes oriented a certain way in their cases, and without an automatic mode to turn them, your worker will have to do it themselves which adds to their physical strain already.
Collecting Tables are not customizable according to your production realities or constraints, they come as they are and cannot be altered.
In most cases, they only offer up to 10 to 25% of production gains.
What Other Packing Systems Are There on the Market?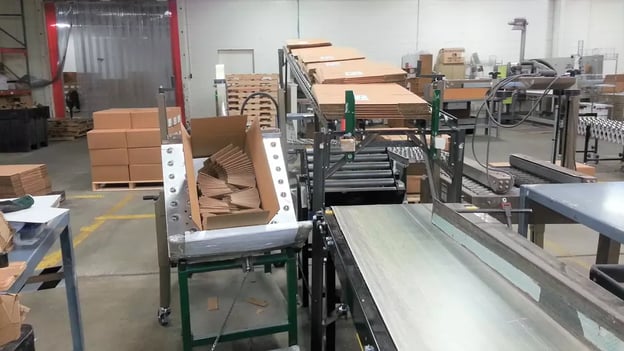 Although a manual packing process under Collecting Tables presents many advantages, such as low cost, simplicity, and movability, semi-automatic or automatic folder-gluer packers may be the best solution for you.
If you want to learn more about the packing options on the market, read the following articles to learn everything you need.
What's the Difference between Collecting Tables and the Ergosa Packer? (Definition, Automation & Types)
How Much Does a Folder-Gluer Packer Cost?
Automatic Vs. Fully-Automatic Packers: Which Should You Choose?