5 min read
Impack Folder-Gluer Peripheral Solutions? | Complete Overview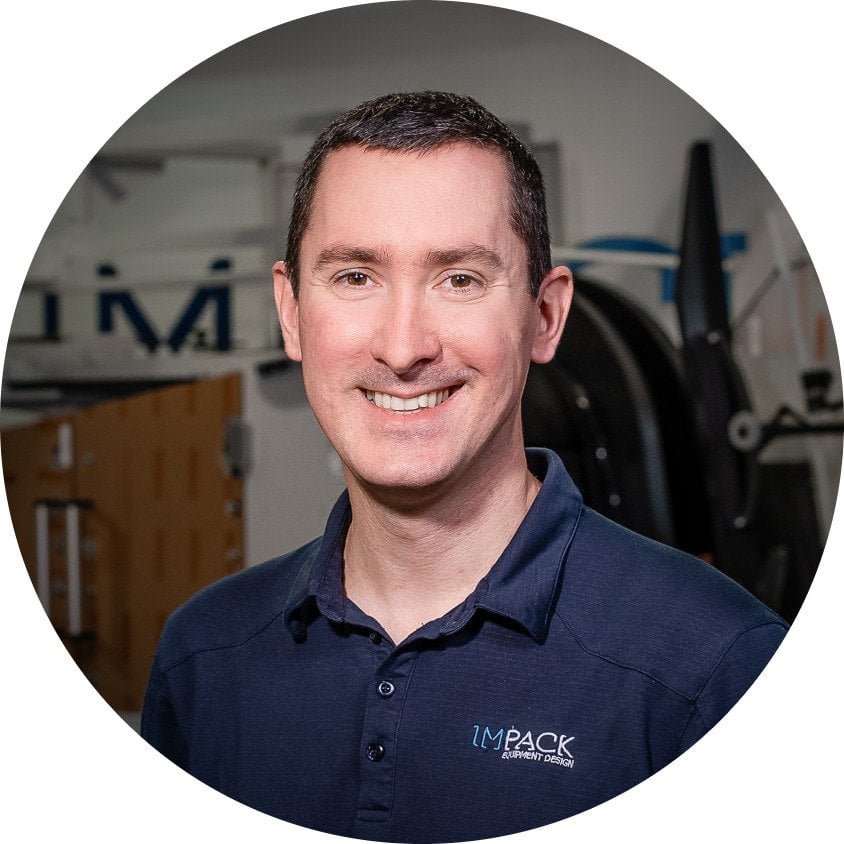 Mathieu Tremblay : 21 September 2021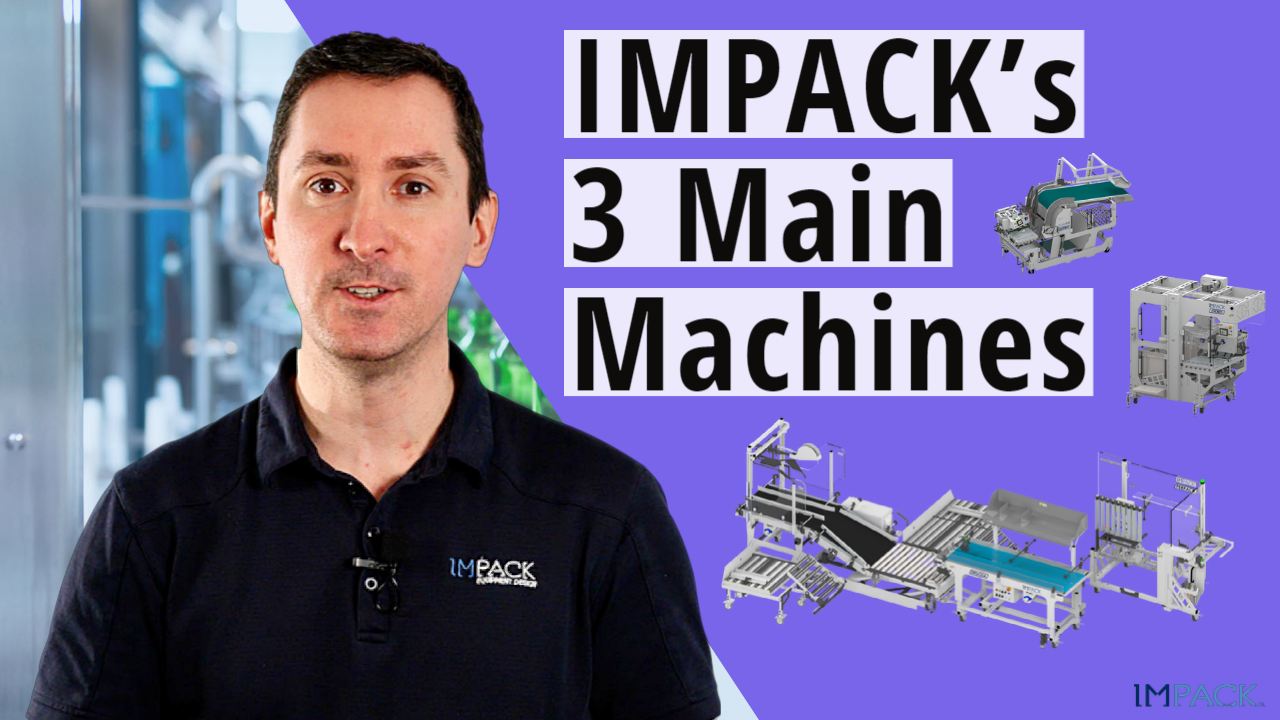 Automated folder-gluer peripherals help finishing lines reach maximum capacity.
Despite efforts to increase finishing line productivity, folder-gluer speed is impacted by one key bottleneck: even a full team at the packing station can't keep pace with the potential speed of the folder-gluer. When IMPACK was founded 20 years ago our mission was to help packaging producers solve this number one process limitation. Since then our line-up of folder-gluer peripheral automation solutions has expanded to solve other speed and efficiency limiters.
Hello, I'm Mathieu Trembly, Deputy General Manager at IMPACK.
At IMPACK, we design, manufacture, and install Semi-Automatic, Automatic, and Fully-Automatic folder-gluer packing and stacking equipment. We also offer an revolutionary in-line window patcher that allows you to add functionality to your existing folder-gluer line.
In this article I will help you determine which solution fits your unique situation and solve your bottlenecks.
Folder-gluer peripherals includes:
Quality Control Systems
Case Erectors
Case Feeders
Case Sealers
Palletization Systems
At IMPACK, we offer solutions in eight of these categories with varying degrees of automation.
Those levels of automation are divided into 4 categories:
Semi-Automated

Automated

Fully-Automated
IMPACK's 3 Main Machine Solutions
The Ergosa Universal Packer, the Virtuo Packer and the Evario Stacker replace slow laborious manual packing.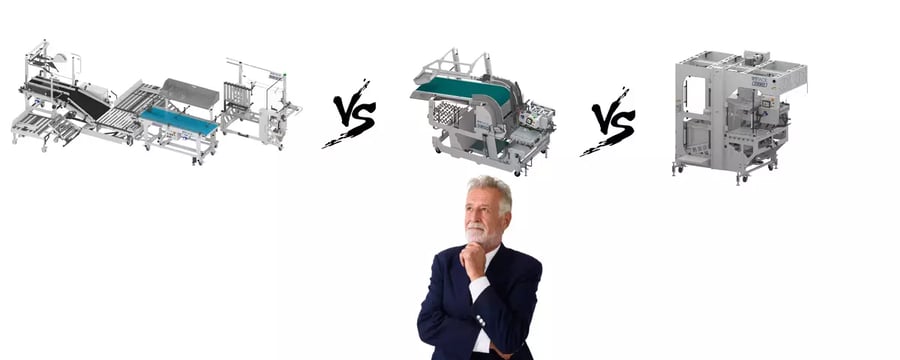 IMPACK's 3 main machines from left to right: The Ergosa packer, the Virtuo packer, and the Everio stacker.
Which Machine is Right For Your Finishing Line?
If you do short-runs of many different box types the Ergosa Universal Packing and Stacking Solution is an excellent way to increase your folder-gluer speed, boost productivity and provide a more ergonomic packing station for your packing personnel.
If you do longer runs of a few box types the Virtuo Automatic Packing Solution or the Everio Automatic Stacking Solution will allow you to reach maximum speed, productivity and profits.
If you do a mix of both short and long runs, and have more than one folder-gluer you can:
Process the longer runs on your faster folder-gluer with the Virtuo or Everio
Process the short runs on your other folder-gluer outfitted with the Ergosa
Let's compare the features and functionality of our main productivity solutions.
Ergosa Universal Packing Solution
The Ergosa C offers 3 different packing modes - horizontal, vertical and pick & place. One person packing in horizontal or vertical mode can pack faster with the Ergosa than two people packing manually. It can also be configured to accommodate two packing personnel when in pick & place mode. It is well suited for packaging producers who do shorter runs of many different box types since it can accommodate a wide range of box shapes, sizes, and formats.
If you would like to introduce ergonomics and increase the speed of your packing process but don't have the space for the Ergosa C, we have a compact solution in the Ergosa A. The Ergosa A is a semi-automatic packing solution with horizontal and pick & place modes but not the vertical mode. Additionally it's functionality can not be expanded in the future if your needs evolve.
Both the horizontal and vertical modes of both the Ergosa A and Ergosa C allow boxes to be ergonomically slid into cases. By eliminating the need for packing personnel to lift batches of boxes, repetitive strain injuries (RSI) are reduced.
Features of both the Ergosa A and the Ergosa C:
Compatible with all folder-gluer models

Compatible with folding carton and corrugated boxes

Runs any box you can process with your folder-gluer

Short setup time

Offers multi-row and multi-layer packing capabilities

Has a pneumatic end-gate to help box accumulation and prevent box overflow
Offers packing speeds of up to 100,000 boxes per hour
Compatible with our MFA Batch Inverter
Yes, you read that right. While 2-3 people manually packing can do about 50,000 boxes, most facilities run between 50,000 - 90,000 boxes per hour depending on the box size and type. Fully optimized productions can reach speeds of 100,000 boxes per hour!
Ok, so what's the difference between the two models?
IMPACK's Ergosa packer in its 2 main versions: The Ergosa A and the Ergosa C.
Let's compare the 2 models features.
Ergosa A's Features:
Simple, economical, and compact semi-automatic packer that offers improved efficiency, ergonomics, and packing speed

Runs small to medium box formats

Offers 2 packing modes: Horizontal Mode and Pick & Place Mode. The Pick & Place Mode accommodates one manual packing station

Less than 5 minute setup time
Ergosa C's Features:
High-performance, versatile, and modular semi-automatic packer with the performance of an automatic packer

Runs small to large box formats

Runs straight lines, 4/6 corners + runs crash lock/auto-bottom boxes faster and more ergonomically than the Ergosa A

It offers the possibility to pack big format boxes

It offers 3 main packing modes: Horizontal Mode, Pick & Place Mode + an optional Vertical Mode. The Pick & Place Mode includes 2 manual packing stations (2 MAE Modules)

5-7 minute set up time depending on the mode
The Ergosa is our top sold machine for the last 20 years and happens to be one of the only semi-automatic packers that exists, to date, on the market.
Which Ergosa version is better for you? Without a doubt you should go with the Ergosa C unless you simply don't have the space at the end of your folder-gluer. The Ergosa C's modular design allows you the most flexibility and the opportunity to start with the base solution and add modules and functionality later.
Worried you don't have enough space? Our experts may be able to pair it with a box turner and conveyor so you can pack boxes adjacent to your folder-gluer.
Virtuo Packer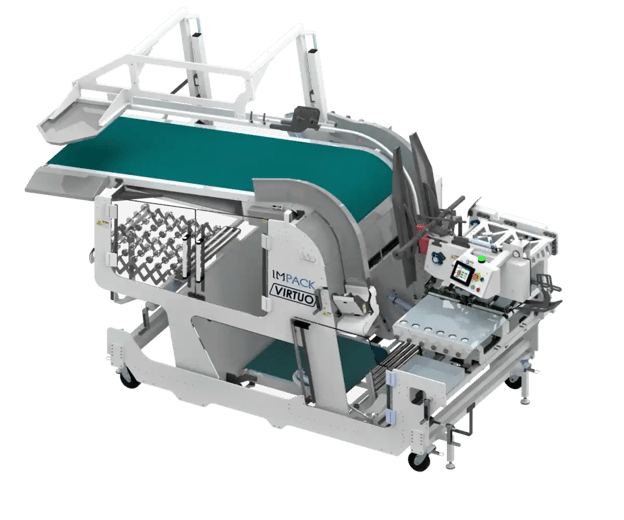 IMPACK's Automatic packer
The Virtuo Packer is one of the most compact automatic packers and the only packer on the market that can handle both carton and corrugated board.
While we refer to the Virtuo as an automatic packing solution, adding the optional Auto Case Feeder (ACF) Module allows you to fully automate the process.
🔍 Find out more about how we define levels of automation at IMPACK.
Virtuo's Features
A high performance automatic packer and the most compact auto packer on the market

Compatible with folding carton and corrugated board

Compatible with all folder-gluer models

Runs medium to very large box formats

Offers one-row, one-layer packing capabilities

Short setup time - less than 10 minutes

Speed: Up to 8 cases per minute

High-precision laser counter

Includes a case loader (conveyor that feeds the cases into vertical packing position)

Includes an intuitive touchscreen interface
🔍 Learn more about "The Virtuo Packer & How Can It Improve Your Packing Process?"
Everio Stacker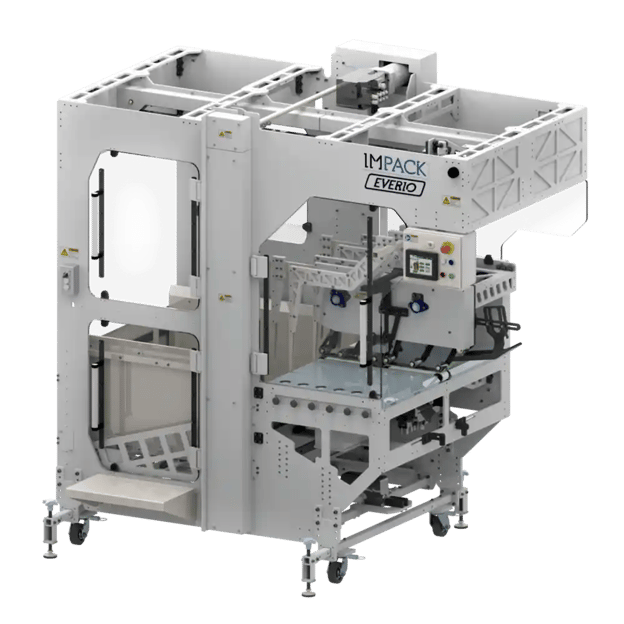 IMPACK's Everio Stacker
The Everio Stacker stacks and bundles boxes before sending them to a separate banding machine(ATS, Mosca or SMB).
To help you differentiate, the Ergosa and Virtuo are finishing line packers that facilitate the case packing process. The Everio is a folder-gluer stacker that meets your bundling needs.
The Everio stacker takes a shingled stream of folded cartons, accumulates the boxes vertically, counts and bundles batches and then sends them for banding or strapping.
The Everio does not do case packing.
Everio's Features
Compatible with all folder-gluer models

Fully automatic stacker with a super compact footprint

Compatible with carton and corrugated board

Short setup time (<10 min)

Runs medium to large box formats

Runs straight lines, 4/6 corners, and crash-lock/auto-bottoms

Compatible with many brands of automatic banding machines, such as ATS, Mosca, or SMB/Signode

Speed: Up to 20 stacks a minute

High-precision laser counter

Includes a touchscreen interface
🔍 Learn more about "What is an Everio Stacker & How Can It Improve Your Packing Process?"
Pre-Packers
All folder-gluer packers and stackers require a box turner.
The box turner turns the shingle of boxes as it exits the folder-gluer so that they enter the case(or banding machine) in the right direction. Our Expert advisors will help you select the box turner that fits the needs of your finishing line.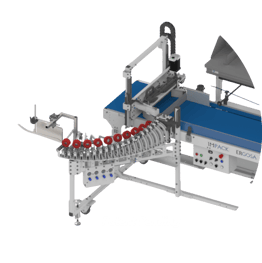 Our MFA counts and inverts batches of crash-lock folding carton boxes allowing you to maximize the space in a case.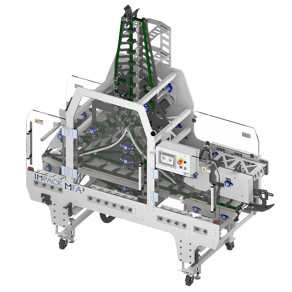 Pre-Feeders
Our Prefio pre-feeder allow the folder-gluer's feeder to run at a higher speed, with a perfect stack height, and without damaging the box blanks.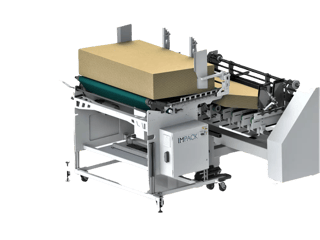 Our GenieCut In-line Window Patcher is a cutting edge technology that integrates directly onto your current folder-gluer allowing you to window and fold on your finishing line. This innovative machine is unlike other in-line window patchers in that it doesn't have stencils, a cylinder nor a messy glue pot. We are excited about how this revolutionary approach will boost efficiency and productivity for our customers.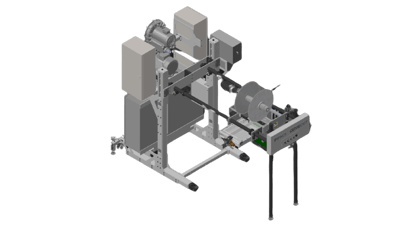 Your probably wondering how to calculate your return on investing in folder-gluer peripherals. Check out our Pricing page or Talk to an Expert for ROI exact calculations.