5 min read
What is Machinery Safety & How Does It Affect Your Choice of a Machine?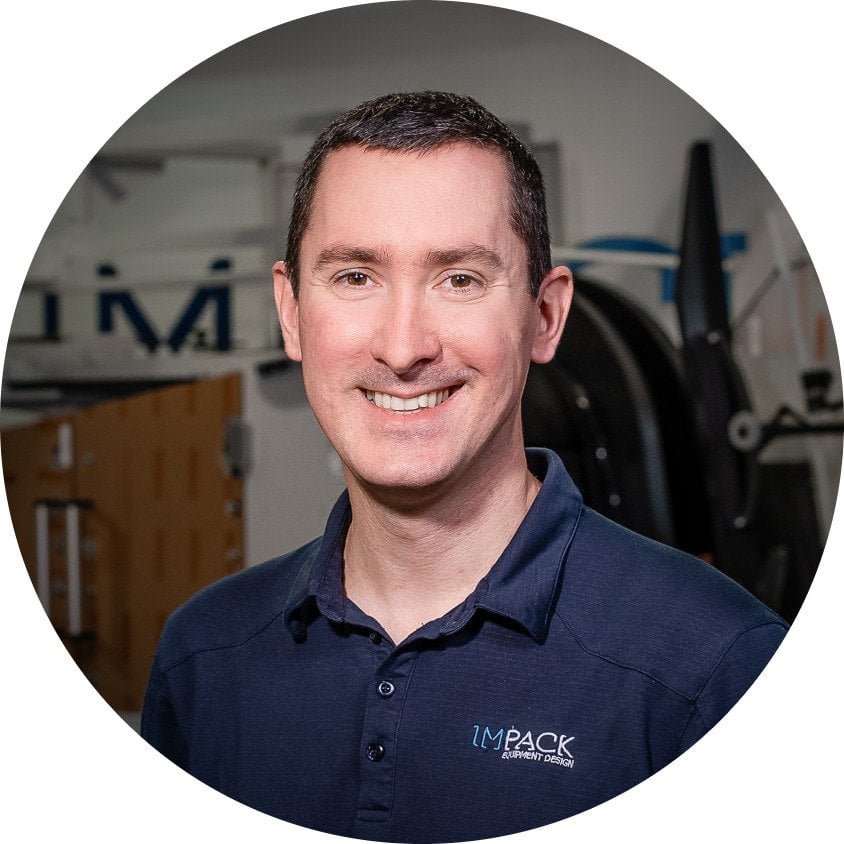 Written by: Mathieu Tremblay, 7 January 2022
If you're looking to add a machine to your folding gluing line, you're probably researching different machines and comparing your options from various suppliers.
One of the most important things to consider when searching for a machine is the safety standards of that machine.
The safety standards a supplier complies with speaks volumes about the supplier's commitment to the safety of your employees and the quality of the machine.
Unfortunately, safety is something that most box manufacturers aren't too concerned about.
The main concerns box manufacturers have are related to the cost of a machine, its level of automation, and its performance/speed.
But safety can be a costly differentiator from one machine to another and is important to understand in order to choose the right machine for your production.
I'm Mathieu, the Deputy General Manager at IMPACK. For the last 18 years, I've been responsible for machinery safety and international normative requirements of all IMPACK machines.
This article is going to outline to you the most important things to consider before choosing a machine, what questions you should ask suppliers, and it will provide you with all the info you need to understand machinery safety.
And I promise, I'll keep this as simple as possible!
International Regulations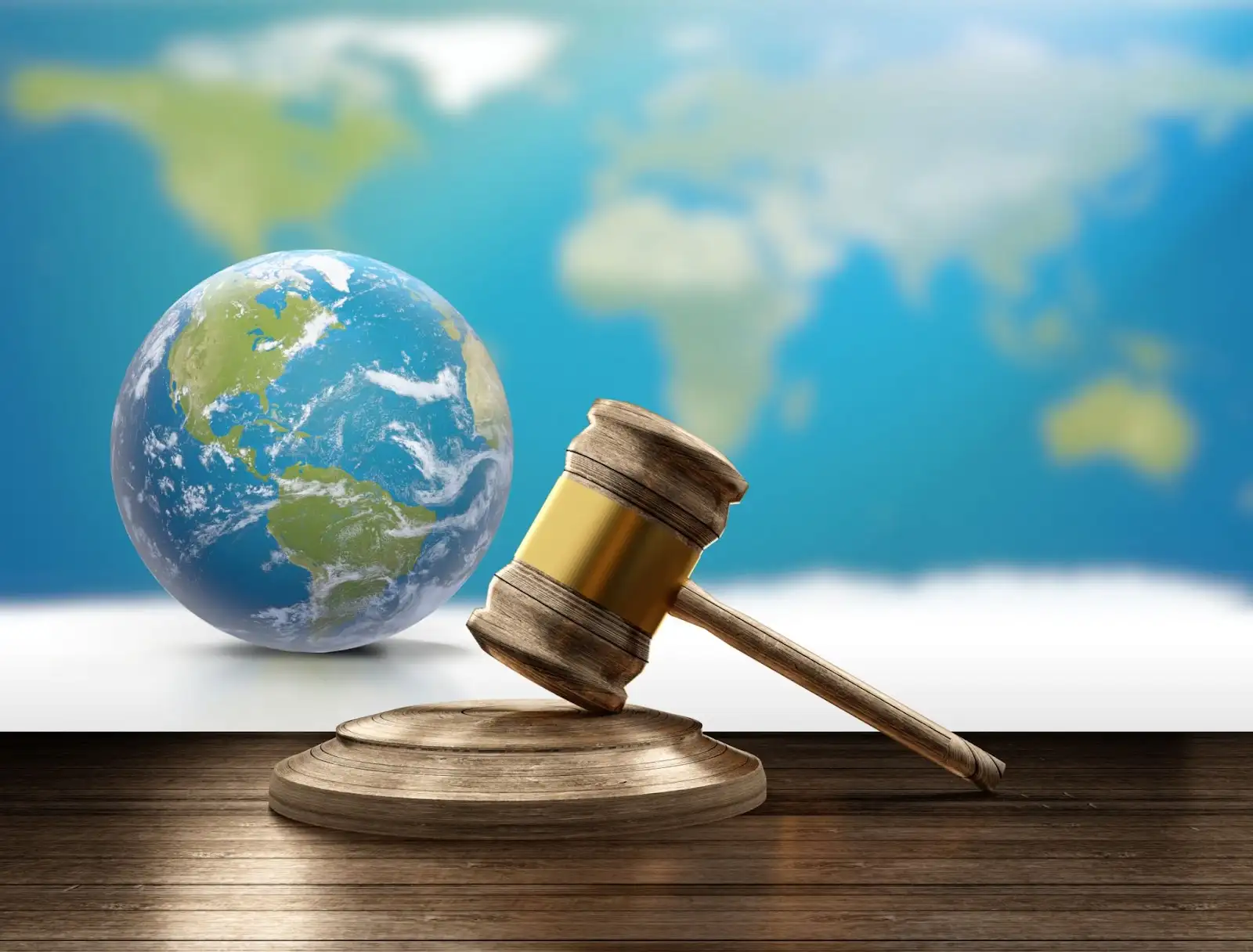 First, you should know that machinery safety regulations vary greatly from country to country and government to government depending on where the machine is located in the world.
1. Europe
Europe has the clearest and broadest scope of standards concerning machinery safety. And this is not based on opinion but rather on the way those standards are structured and the scope of things they involve.
There are hundreds of formulated standards that guide machine manufacturers through the complex world of machinery safety.
The two links below are a great starting point if you're looking to learn more about machinery safety in Europe.
🔍 Recommended:
Learn more about the CE Directives and the 6 steps required to affix the CE marking on your machine.

Learn more about the ISO 13849-1 Standard Safety of machinery and the safety requirements concerning related parts of control systems (SRP/CS) including the design of software.
2. United States (USA)
In the USA, machinery safety is regulated by the Occupational Safety and Health Administration - OSHA. The OSHA requirements are usually very similar to the CE marking.
In case of discrepancy we, at IMPACK, use the most stringent standards to ensure that we have an internationally compatible design that meets all the requirements.
🔍 Recommended: Learn about the OSHA standards, hazard recognition, and how to meet the requirements.
3. United Kingdom (UK)
Since Brexit, the UK put together its own regulations and they plan to implement the UKCA marking.
Currently, the directives and standards are mostly the same as the CE marking but it might change in the future.
We will pay close attention to the evolution of the UKCA marking and how it impacts machinery safety across the globe.
If you're a manufacturer outside of the EU and UK, we strongly recommend the Authorized Representative Service. They are great consultants for the UKCA and EU regulations that can represent your company and help you meet all the required obligations enforced by the government.
🔍 Recommended:
Find out more about the UKCA marking and how to implement it.

Learn how the Authorized Representative Service can help your company meet all the regulatory requirements enforced by the government.
4. Other Countries
Other countries sometimes have their own standards. Usually, the CE marking covers most of the requirements enforced by other countries' standards with only a few slight differences.
Main Safety Considerations
Machinery safety encompasses the whole machine.
The main considerations are the mechanical and electrical systems, but there are also other key considerations that you should be aware of.
1. Mechanical Safety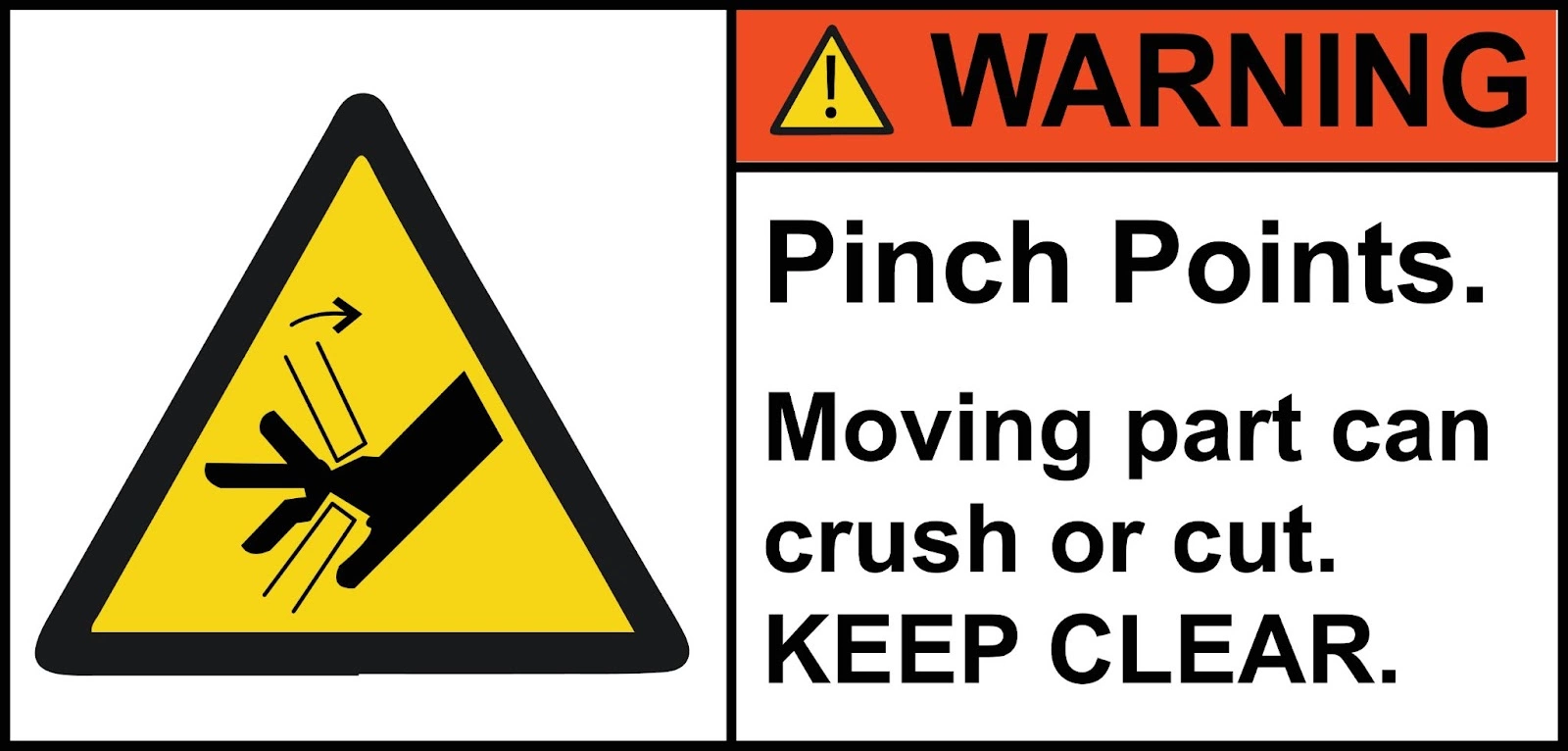 Mechanical safety includes doors, guards, and nip points i.e. everywhere a hand or a finger might want to reach but shouldn't!
It also concerns the moving parts and how safe/unsafe they are. This includes locks, breaks, and clamps for moving parts to prevent injury when accessing them in a safe state.
2. Electrical Safety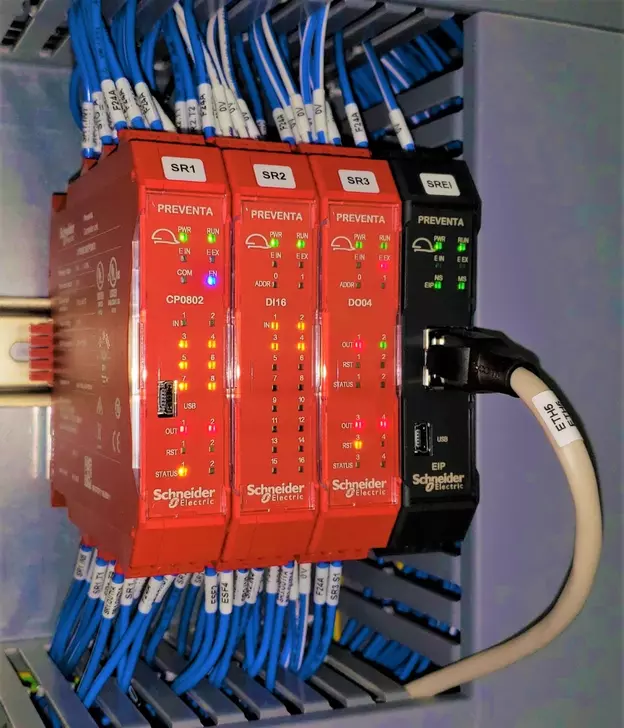 Programmable safety relay controlling the safety logic of the Everio stacker.
Electrical safety concerns the interlocking of the many moving components of a machine to reach a safe state in case of an emergency.
You don't want a motor to start, or a cylinder to move, while you're inside the machine. That is a recipe for a catastrophic disaster!
Electric safety also includes everything from safety hinges and sensors to monitor doors and guard openings.
For convenience, it's also possible to use "safety light barriers" that don't physically guard parts of the machine but that put the machine in a safe state when the barriers are crossed.
3. Other Safety Considerations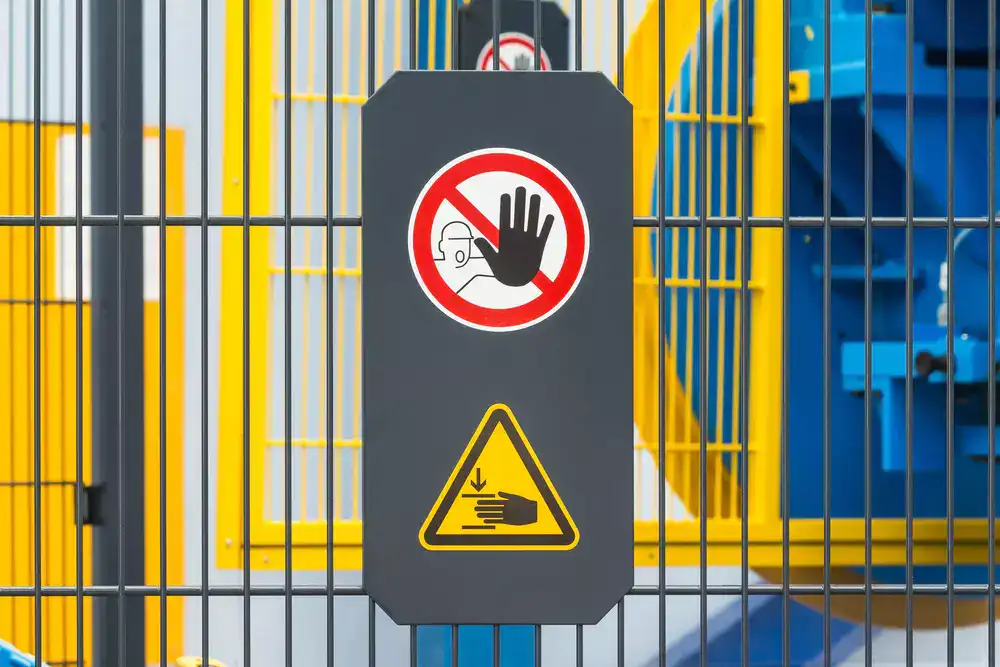 Safety is not limited to the mechanical and electrical components.
A large part also concerns proper documentation and analysis of risks which are not always visible to the machine owner but are essential for a proper assessment of the machine's safety.
There are also all the labels affixed to the machine which indicate where the risks are and how to avoid/prevent them.
Safety Performance Level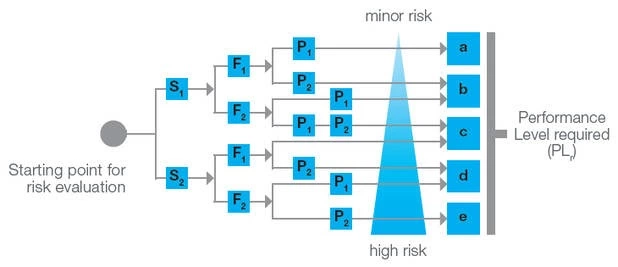 Source: Pfannenberg. Safety for machines (PL).
All this leads to the "Safety Performance Level of a Machine" (PL) defined in the ISO 13849-1 standard.
The "Performance Level" is calculated based on all the safety measures implemented on the machine.
PL levels are noted using letters ranging from "PLa" to "PLe" with"PLe" being the most performant level i.e the highest standard of safety.
The base PL level required for a specific machine depends on the type of risk associated with that machine.
A machine without any risk of injury whatsoever could be rated "PLa" and be totally acceptable.
In contrast, a machine with a very high risk of death would require a "PLe" level.
"How about a folder-gluer packer/stacker? What Level of PL does it require?"
Great question! A "PLb" might be sufficient in most situations but we also offer the "PLc" as a default to ensure that we're meeting the strictest requirements out there.
The "PLd" is more complex and expensive but we do offer it as an option if required.
We are still yet to see whether a "PLe" requirement will ever be needed for our folder-gluer packaging equipment.
Consider Machinery Safety When Choosing a Machine
So, there you have it.
I would be lying to you if I said safety directives aren't boring and tedious to understand, but they are critically important to protect yourself and your employees' safety.
The good news is that once you've mastered these standards, the design process becomes as clear as day with very little room for interpretation.
Fortunately for you, you do not have to dig through all the documentation to compare the safety performance of several different machine manufacturers.
All you have to do is ask for the machine's "Performance Level" and that would speak volumes about their commitment to safety.
If you have your own standards to follow, then you probably know all of this already!
We will be more than happy to provide you with a machine that meets your very own needs, budget, and safety standards. Contact an IMPACK Expert to learn more.
I hope this article helped you better understand machinery safety and the important questions to ask your future supplier, whether you choose IMPACK or go for another supplier.
Your Next Steps:
👉 Considering purchasing packaging equipment but not sure where to start? Read "What Are Packaging Equipment & How to Choose the Right Machine For Your Production?"
👉 Conflicted about what level of automation you should go for? Find out by reading "What's the Difference between Manual, Semi-Auto, Auto & Fully-Auto Folder-Gluer Packers?"
👉 Got more questions about IMPACK or our machines? Here are IMPACK's Top 10 Frequently Asked Questions with clear and direct answers.