8 min read
What Box Turner is Right For You?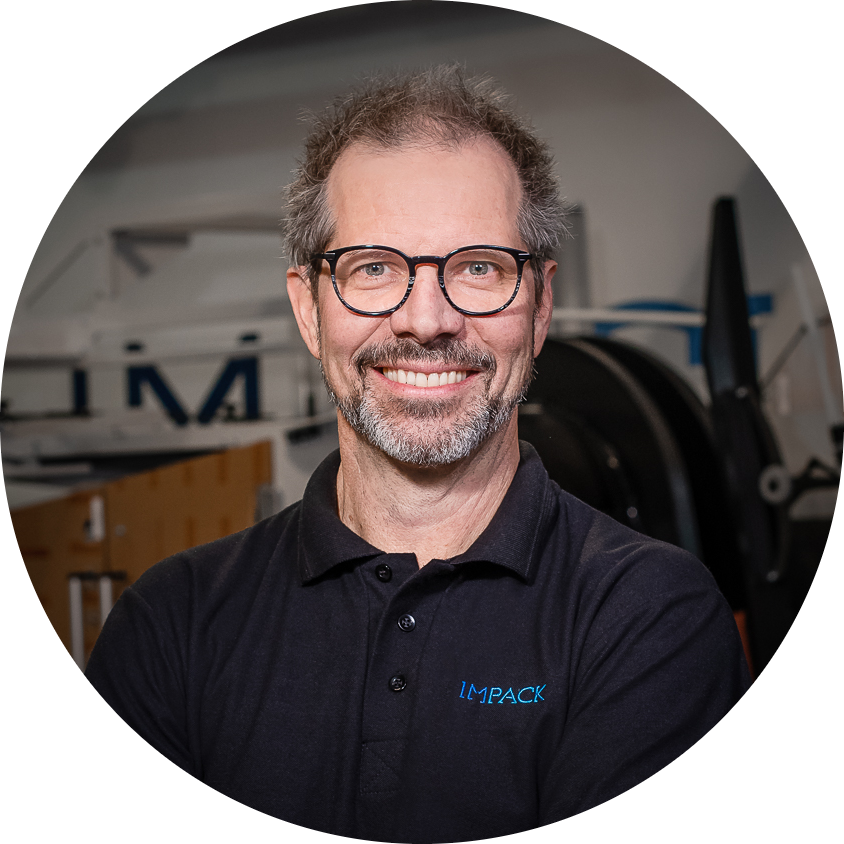 Written by: François Granger, 20 August 2021
If you're thinking of adding a box turner to your production, you're probably asking yourself:
"How do the different box turners on the market compare to one another?"
"What features and benefits do each offer?"
"And which box turner is right for my company?"
As a Mechanical Engineer and a Sales Manager at IMPACK for the last 4 years, I have helped dozens of box manufacturers analyze their production, identify inefficiencies, and maximize their folder-gluer's productivity.
I have also recommended, tested, and administered the installation and training of several box turners in many countries around the world.
No matter where I am, however, every floor manager has the same exact question:
"What box turner is right for me and how do I choose?"
In this article, I'll share with you how I've helped floor managers just like you select the right box turner product for their company.
Expect to learn 👇:
What is a box turner and what benefits can they provide to my packing process?
What are the most popular box turning technologies on the market?
What are my box turner options?
How do I choose the best box turner for my production?
Let's dive in, shall we?
What is a Box Turner?
A box turner is a pre-packing device (a pre-packer) that individually turns each box in the shingle* exiting the folder-gluer to form a new shingle with the boxes presented/oriented in the desired direction. A box turner is mainly required for straight-line boxes.
*A shingle is the overlapped stream of folded cartons exiting a folder-gluer.
Box turners can range from the most basic to the most advanced systems on the market depending on the technology used and the capabilities that these technologies offer.
Being a pre-packer, a box turner is installed right after the folder-gluer and before a packer.
The image below shows where a pre-packer is located within the flow of folder-gluer packaging equipment.

A graphical depiction of the flow of packaging equipment around a folder-gluer.
If you want to learn more about what a box turner is, and whether or not your company needs one, read our article "What is a Box Turner and Do I Really Need One?"
What Benefits Does a Box Turner Offer?
A box turner allows you to:
Turn your boxes 90° to the left, 90° to the right, straight through, or 180° fully automatically.
Control your box orientation so that you can meet each customer's requested case packing configuration.
Dedicate your packing staff to focus on the packing and not box turning as this action is now fully automated for you.
Improve the ergonomics of your packing stations and avoid repetitive movements which often lead to wrist injuries.
Save time and money during the packing process.
Improve your folder-gluer productivity and reach higher packing speeds.
What Are the Most Popular Box Turning Technologies on the Market?
There are 6 common box turning technologies on the market. Those are:
Basic Tooling on a Folder-Gluer
Helicoidal Turners
Turning Tables
Right Angle Transfer Conveyors
Shingle Turners
Combinations
The most popular of those 6 technologies are Helicoidal Turners and Right Angle Transfer Conveyors.
I won't dive into these 6 most common box turning technologies here, but we have a complete article that compares "The Top 6 Box Turning Technologies on the Market" (article coming soon) and walks you through how to know which box turning technology is right for your production.
What Are My Box Turner Options?
IMPACK offers several different types of box turners that range from the most economical to the most advanced on the market.
IMPACK's 5 main box turners are:
Find out which box turner product is best fit for your company by reading "Comparing IMPACK's Box Turners: Which Is Best For Your Company?" (article coming soon).
How Do I Choose the Best Box Turner for My Production?
Alright. You now know that box turners can range in complexity from the most basic to the most advanced systems on the market.
And you're aware of how their capabilities and limitations all depend on the type of box turning technology used.
We talked about the top 6 box turning technologies on the market.
We also explored the box turner options you have available to choose from.
The main question you're now probably asking yourself is "How exactly do I go about choosing the best box turner for my company?!"
Here's how:
If you have a packer or stacker after your folder-gluer (whether an IMPACK or non-IMPACK packer/stacker), you may need a box turner depending on the final packing configuration.
Straight line boxes are almost always turned prior to them being packed into cases and almost never turned prior to being banded or strapped. together.
Every packer or stacker requires a device to turn these boxes so as to facilitate the packing/stacking process. This device is the box turner.
👉 If you are considering an Ergosa A packer, then your 2 available options are the IN2 and the INH box turners.
Whether you choose the IN2 or INH box turner, it will get built into the Ergosa A packer and you do not need to purchase the IN2/INH as a separate module.
The IN2 and INH are integrated onto the Ergosa A's conveyor to reduce cost and floor space.
👉 If you are considering an Ergosa C packer, then your 4 available options are the IN2, IN3, IN1, and INH box turners.
Almost every single Ergosa C packer is sold with an IN2.
The INH is the latest model and will be available in full scope by the end of 2021 but requires a further assessment from IMPACK's experts to validate the fit. If the fit is right, it is the best solution for turning your boxes.
The IN3 is also available but it would honestly be unnecessarily expensive for an Ergosa production line, unless an MFA Batch inverter is considered.
The IN1 is another available option with the Ergosa C packer but it is limited to specific types, shapes, and sizes of cartons. It also can be installed directly on the folder-gluer's delivery belt but requires more human intervention. That said, it has the advantage of being by far the least expensive solution.
👉 If you are considering a Virtuo packer, then your 2 available options are the IN3 and IN2 box turners.
The best fit most of the time is the IN3 box turner — either in its standard size or the XL size depending on your production. It has the advantage of keeping the centerline from turning to a straight through setup, which is more important on an automated or fully automated line.
To reduce your costs, the IN2 is another available option but will require moving the packer if you need to switch from one orientation to the other, and this means longer setup times. But if your boxes always need turning, then the IN2 will be as fixed as an IN3.
👉 If you are considering an Everio stacker, then your 2 available options are the IN2 and IN3 box turners.
The best fit would be an IN2 in XL size.
An IN3 could be a possible solution to keep the centerline, but most of the time the carton specifications are too large even for the IN3 XL size.
And although an IN3 XXL could be developed, it would become too expensive and too large to be a viable option from our perspective.
👉 If you already have a packer or stacker (IMPACK or non-IMPACK brand) that has limitations related to case configuration due to the packer's lack of turning capabilities, then your 3 available options are the IN3, IN180, and IN2 box turners.
What Are My Next Steps?
👉 Find out what folder-gluer packer or stacker is best for you by checking out the following resources:
👉 Learn more about the specifications of IMPACK's box turners by viewing:
Got more Questions?
If you've got more questions that you want answers for, contact us today!
IMPACK's experts would love to help and maybe even show you some of our box turners LIVE on a video call 😉.