7 min read
What's the Difference between Collecting Tables and the Ergosa Packer? (Definition, Automation & Types) [+VIDEO]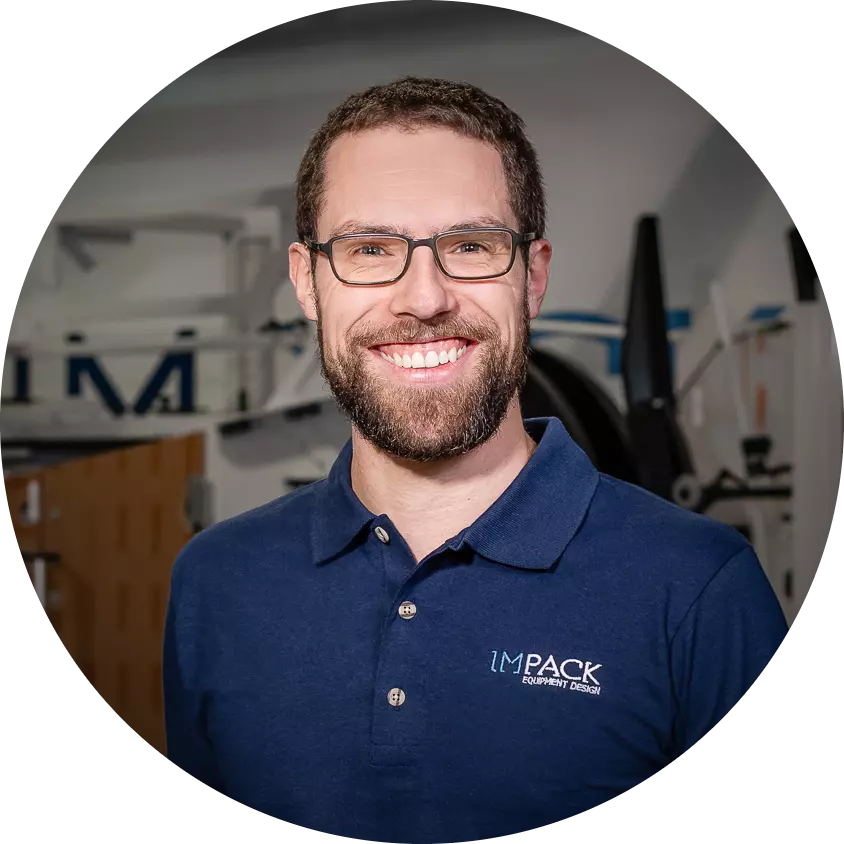 Stefan Badertscher : 27 April 2021
Are you debating whether you should add a Collecting Table or another automated folder-gluer packer to your folding-gluing line?
Or maybe you already have a Collecting Table and you're thinking of upgrading to a more automated packing solution?
At IMPACK, we manufacture and install manual, semi-automatic, automatic and fully-automatic folder-gluer packers and peripherals. The Ergosa packer is our semi-automatic packer and our most chosen machine. We also manufacture "Packing Help Stations," which are similar to the Collecting Tables that we discuss in this ARTICLE + VIDEO.
The Ergosa is generally a new packing system on the market. It can offer multiple packing modes and various configuration options. From very basic to highly versatile, there are a lot of things that need to be considered and many factors that can drive the cost of an Ergosa up or down.
Hence, it is sometimes hard to understand why the Ergosa could make sense against the other packers on the market, given the fact that it costs more than simple Collecting Tables.
"But, what's the difference between a Collecting Table and the Ergosa packer?"
"Do they both offer the same capabilities?!"
"What return on investment can be expected from each?"
This article is going to define each packing system and clearly identify their differences so that you can decide for yourself which packer is best for you!
Sounds fair? Let's get right into it!
Collecting Tables Vs. Ergosa Packer: What's the Difference?
What is a Collecting Table?
Definition: A Collecting Table is a traditional hand-packing process using pick and place stations and is otherwise known as "Packing Help" or "Packing Aid." Collecting Tables are complementary packing solutions or peripheral devices that can be added to a folder-gluer to help facilitate the packing process.
IMPACK's Collecting Table is the "Packing Help Station."
IMPACK's Packing Help Station: A traditional packing process using pick and place stations. Also known as "Packing Help" or "Packing Aid."
How automated are Collecting Tables?
Collecting Tables fall within the manual packing category. They have no automation and involve full manual work.
In other words, although Collecting Tables present the boxes in a better way for the packing person to pack the boxes into the case, they are not automated and have no automation of any form. If a company offers automated case flap-closing and taping with their Collecting Tables, then those are additional configurations that come from third party suppliers.
In short, Collecting Tables simply serve as packing help/aid to the traditional manual packing process.
The most basic Collecting Table we've seen involves crowding a bunch of people at the end of the folder-gluer's compression belt and asking them to pack as fast as they can. Fortunately, we rarely see clients doing this anymore.
In addition, clients would usually have the most basic tables made of wood or stainless steel and "tilting holders/stands" used to tilt the cases which are to be packed with the boxes.
An example of this that we saw in one of our client visits is shown in the image below: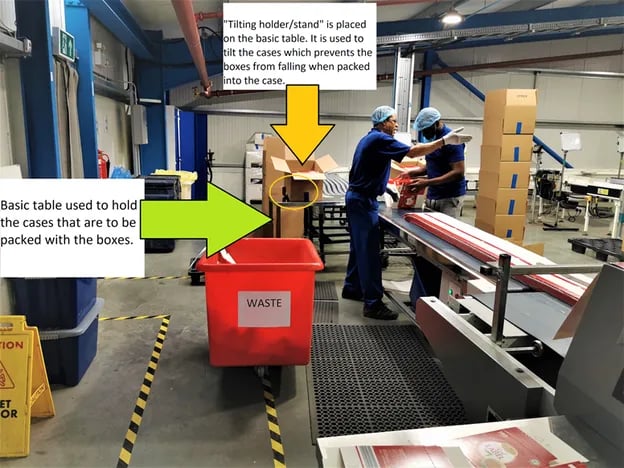 A photo from one of our visits to a client that depicts the packing personnel packing boxes into cases on a basic table with a "tilting holder/stand" used to tilt the cases.
The first step forward would be to add a conveyor after your folder-gluer's compression belt so that your packing personnel can accumulate more boxes per meter of conveyor. This added conveyor is called an "accumulation conveyor."
The accumulation conveyor reduces the speed of the box shingle and allows more boxes within the same time-frame. It's more ergonomic, easier to keep up with the speed and far more convenient to work with multiple people.
The next step would be to upgrade from your basic tables with tilting holders/stands to "actual tilting tables." The 3D image below depicts an actual tilting table.
3D graphical representation of "actual tilting tables."
Typically, at this stage, those tilting tables do not yet have any automation or pneumatic but just the stand holding the case that you can push onto a conveyor.
Most often, we see those tilting tables locally-made and are used to hold the cases so that they're tilted at an angle. The purpose of tilting the cases is to prevent the boxes from falling when placed into the case.
Another step forward would be adding a box turning feature.
This box turning feature allows you to rotate your boxes 90° to the left or 90° to the right and control your box orientation to meet the requested case packing configuration. If not turned, your boxes would come out standing up which would require you to manually turn them 90° to place them into the case.
So what a box turner really does is present/orient the boxes in a better way for the packing person(s) to facilitate the packing.
With the implementation of all the previous steps, you would now have the most common "Packing Help" or "Packing Aid" machine within the Manual category: A Collecting Table.
Displayed below is an image of a Collecting Table in action from one of our clients: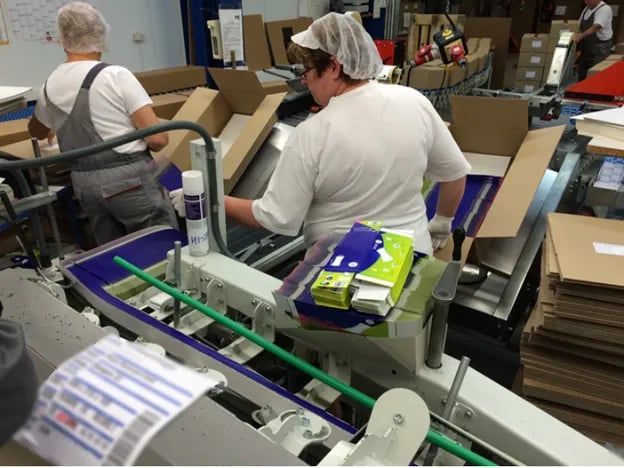 A Collecting Table that we saw during one of our client visits.
But just like with the traditional manual packing process, you still have to pack your boxes by hand on the Collecting Table and do the case flap closing, taping and ejecting yourself. It's full manual work with no case management involved.
I listed and linked below the most popular Collecting Tables (or Packing Help/Aid) in the Western market that I'd urge you to take a few minutes to look at and do your own research on to ensure that you're making the best decision for your company.
After all, we want to make sure that our clients have the most fitting solutions for their needs, even if that means not choosing IMPACK.
What Is the Ergosa Packer?
Definition: The Ergosa is IMPACK's semi-automatic folder-gluer packer that utilizes a modernized packing process to optimize the efficiency, ergonomy and productivity of your case packing process and push your folder-gluer to its maximum potential.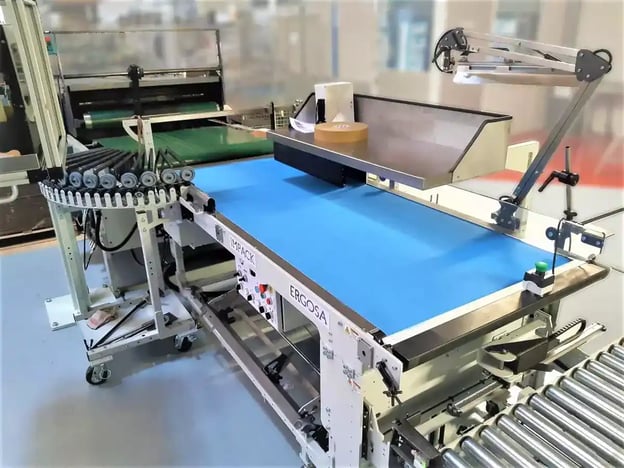 IMPACK'S Ergosa: A semi-automatic packer with the performance of an automatic packer. (Note: This specific Ergosa A was custom built as an XL size for one of our clients and is much larger than our standard Ergosa A's that are designed to be the most compact versions of the Ergosa series).
How automated is the Ergosa packer?
The Ergosa can range from a manual to a semi-automatic process depending on the options and modules installed.
The vast majority of the Ergosa packers we produce include case management which makes them semi-automatic. That is, most Ergosa packers are semi-automatic because they include automated case management capabilities.
Automated case management being included means that you have an automatic case ejection system, a manual or automatic flap folding system, pneumatic tilting tables and flap folding units. In other words, your cases are managed automatically.
Having your cases managed automatically means that your packing person(s) can focus on the packing and no longer has to perform the case flap closing, taping and ejecting as those actions are now all automated.
Our article "What is an Ergosa & How Can It Improve My Packing Process?" explains in detail what an Ergosa packer is and the features & benefits it has to offer. It really covers everything you need to know about the Ergosa packer!
There are 2 types of the Ergosa Packer: Ergosa A and Ergosa C
The 2 versions of the Ergosa series: Ergosa A and Ergosa C.
It is noteworthy to mention that there are 2 different versions of the Ergosa within IMPACK's Ergosa series: The Ergosa A and the Ergosa C.
The "Ergosa A" is the simpler packer of the two Ergosa packers that has less packing modes, less features and is less customizable relative to the Ergosa C. But, it is less costly and better suited for companies with limited space availability.
The "Ergosa C" is the more advanced and versatile version of the Ergosa series that offers more configurations and multiple packing modes with several additional features and benefits.
Collecting Table Vs. Ergosa Packer: Which Should You Choose?
The answer to this question is as annoying and as vague you would expect: It depends.
But I won't leave you with the "it depends" statement. Here is the truth:
👉 If you have small production runs with a lot of changes per shift, and you've never had any "packing help" or "packing aid," then a Collecting Table like IMPACK's "Packing Help Station" or the other Collecting Tables on the market could be a great first step.
Some examples of the most popular Collecting Tables in Western countries are Bobst's Handypack GT, KBA Duran's Omega Pack Station and Tünkers' FAS 480.
You should take into consideration though that those Collecting Tables do not include case management so your operators will have to take care of the case flap closing, taping and ejecting fully manually.
👉 If you choose to go with a Collecting Table instead of the Ergosa packer, or you already have one, it is important for you to know that there will come a point where the Collecting Table will become limited by its manual functionality.
And this is really the tipping point to deciding when to upgrade from a Collecting Table to the Ergosa packer.
That being said, you can still push your Collecting Table to do more than what it is currently capable of doing. In other words, these Collecting Tables' levels of automation can be increased and their capabilities can be expanded.
Most companies won't do it though because, naturally, they want you to opt for the automatic packers that come at a much higher price point.
But it is certainly possible, easy and inexpensive.
At IMPACK, we are not exclusive to our own machines. We will customize and tailor solutions based on your needs and production realities.
Yes — we do standardize our machines to keep volume and production cost under control, but we are not exclusive from a technical standpoint.
👉 If you prefer to expand the capabilities of your existing Collecting Table instead of investing in an Ergosa packer, we are open and willing to help you do whatever you feel is best for you 👌.
We commonly see clients that start with a Collecting Table and once they get limited by the manual process they, themselves, try to automate those solutions by adding auto features.
Sometimes they're successful, sometimes they fail, and sometimes they come to us because they failed.
👉 Now, if you have a Collecting Table and have become limited by its manual functionality, and you're stuck, or you have a wide range of boxes, complex boxes, and a diverse product mix that requires constant adjustments and modifications, then an Ergosa packer could be a perfect fit.
I hope this article helped you better understand the differences between Collecting Tables and the Ergosa packer so that you can choose the best folder-gluer packer for your needs.
Now that we have clearly laid out the differences between Collecting Tables and the Ergosa packer, your next steps would be to:
Learn about the Ergosa packer's 3 main packing modes and which mode is best for what production.

Compare IMPACK's 3 main folder-gluer packaging equipment to know which folder-gluer packer is best for you: Ergosa Vs. Virtuo Vs. Everio - Which is the Best Folder-Gluer Packer?