Have you been surfing IMPACK Packaging's Learning Center looking to know more about our services?
More specifically, are you interested in learning about IMPACK's machines and seeing them run in real-time?
Often, prospective clients will ask us:
Can I see your machines running in real-time?
It's a totally normal question and the answer is YES.
IMPACK offers 5 different ways to do so:
We can provide the contact information of a previous client.
We can organize a visit to the factory of a previous client.
We can send videos from our Learning Center and our Youtube Channel.
You can come in person to IMPACK and see your box samples run.
Speak to an expert.
In this article, we will cover these 5 different options offered by IMPACK and explore their benefits.
Let's begin first by exploring the importance of seeing our machines run in person.
Can I See Impack's Machines Run in Person?
IMPACK IN3 Box Turner
The simple answer is yes, it is possible for you to see our machines run before you make your purchase.
You see, many clients inquire about seeing our machines run for a very simple reason, they want to make sure they can trust our machinery.
Here at IMPACK, we value trust and transparency and that's why we provide you with the opportunity to see our machines run.
As mentioned before, you have 5 different options to see a machine run in real-time.
These 5 options are as follows:
We can provide the contact information of a previous client.
We can organize a visit to the factory of a previous client.
We can send videos from our Learning Center and our Youtube Channel.
You can come in person to IMPACK and see your box samples run.
Speak to an expert.
We will go one by one and explore what each option entails.
1. Can I Contact One of Impack's Previous Clients?
Although it is not the most common option, it is possible for us to connect you with a previous client of ours via phone call or email so that you may ask them any questions or concerns you have.
They may be open to filming their IMPACK machine running in real-time, but there is no guarantee, and it is always up to the discretion of the client.
Nevertheless, clients will also sometimes ask to be put in contact with a previous IMPACK client for the purpose of visiting their factory and seeing one of our machines run in person.
So, let's explore that option.
2. Can I Visit Another Client's Factory to See an IMPACK Machine Run?
The answer is yes, but we must note again that it is not a common option either.
You see, most of our clients give astoundingly positive reviews of our machines, and many would smile at the opportunity to showcase their IMPACK machine.
However, it is an endeavor that requires coordination and communication, it can be a logistically difficult task.
More importantly, some clients may not feel too comfortable showing a competitor their factory, therefore it is an option, but it is not a guaranteed one.
But don't fret, there are more options to explore below!
3. Can I Visit Impack's Factory to See a Machine Running?
MFA Batch Inverter assembled at IMPACK factory.
The answer is yes!
This is also an option that requires coordination, but it is a highly favorable option.
Not only can we schedule a time for you to visit our assembly factory in Saint-Jacques, Quebec, but we can also run your box samples if you send them over to us beforehand. Giving you the ultimate in-person experience.
The clients who have used this option significantly benefitted from it.
It gave them peace of mind knowing the machine will work with their boxes, and seeing the machine run in person allowed them to have first-hand experience with the machine before even purchasing it.
Having in-person experience with the machine assures our clients that the machine is compatible with their needs and that the training for the machine won't be too complicated.
Nevertheless, this option still requires coordination, and you will need to talk with an expert to do so.
4. Can I See a Video of Your Machine Running?
Absolutely, in fact, this is the most common option chosen.
At IMPACK we know how important it is to have visual aids and visual resources for our clients. That's why we make sure to produce video content on our Learning Center and on our Youtube channel.
Whether it is 2:00 am or 11:30 pm, the videos on our website are available to the public 24/7.
Moreover, our videos feature footage of our machines in action, and they also feature important information regarding our machines. You can find neat advice to help you boost your productivity, advice on how to maintain your machines, and a plethora of great topics to learn about.
We also feature case studies where past clients share their experience with IMPACK and how much their machines increased their productivity.
Most recently, Alexir Packaging in the UK shared their story, they purchased 2 Ergosa C folder-gluer packers and managed to reduce their packing staff by 2, saving them between £60,000 to £80,000 per year in wages.
Case studies like Alexir Packaging allow you to hear from our clients themselves about the extent to which they benefited from buying one of our machines.
Finally, when we do trial runs for your box samples, we can also film them and send them to you as a means of seeing your machine run in action.
Nevertheless, the first step to all these options is to speak with an expert.
5. Speak With an Expert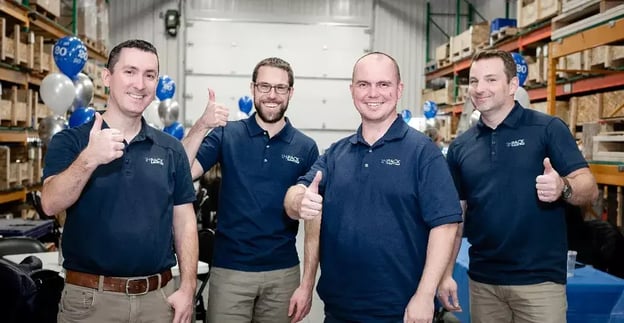 Impack Leadership team
Our Learning Center is available 24/7, however, nothing beats getting personal service.
Speak with one of our experts to receive videos pertaining to the machine(s) of your interest, and for additional information you may seek.
An expert can analyze your products, find the right machine for your company, and provide you with all the videos, pictures, and articles you'll need to make the right decision.
Speaking with an expert is FREE and takes only a few seconds!
If you want to learn more about IMPACK's services and machines, read the following articles:
What Are Impack Packaging's Machines? Complete Overview + Video
What Is Impack Packaging's Service Program?
How Long Will It Take to Get My Return From Investing in Packaging Equipment?